Meke Baby Milk Warmer: Story behind life-changing baby bottle
For those many moments when you need warm milk in under five minutes
 A painful bout of mastitis inspired this revolutionary new must-have product for every parent and their baby.
Elysia Krstevski clearly remembers the day she was left "flustered and stressed" as she struggled to find a way to feed her baby while out grocery shopping during Covid lockdowns. 
Grappling with "unbearably painful mastitis", an inflammation of breast tissue, it made it impossible for the mother-of-two to feed or express. Although she had milk on hand, there was no one she could ask to warm it up for her since all cafes were closed during lockdowns. 
"The situation left us with a screaming baby and no hot water to solve the problem," the Melbourne-based mother told Kidspot. 
So, she was left with only one solution: to bear the agony of her mastitis and breastfeed her daughter. 
"We ran to the car in the pouring rain, where I had to feed her through excruciating pain. Any mother who has had mastitis would know how hard this is to do."
She got thinking later that day: Why wasn't there an innovative on-the-go feeding solution on the market that reduced the stress when a baby is screaming because they're hungry and also gave dads the opportunity to take over in preparing the night feed formula or expressed breast milk?
"We realised we weren't the only ones struggling to warm up milk on the go, whether it was in the car, outside with the kids or at a restaurant that refused to assist with heating up milk," she explained. "I observed several other mothers at shopping centres who were either spilling milk, making the bottles too hot or not having them cold enough. These strenuous, lengthy and petty processes were becoming more and more evident. 
So, Elysia and her husband Chris, decided to take this matter into their own hands and Meke Baby - a brand selling the original portable milk warmer bottle - was born. 
From idea to launch
Elysia and Chris drew on their own experiences as parents to craft the perfect product. 
"The best education we could have possibly had to prepare us for developing an exceptional product was by literally being the market we are appealing to," the business owner said. "Motherhood has taught me a lot about myself and pushed us to be different as parents, more than any task or project management could ever do." 
The couple dedicated months to researching baby feeding products, ensuring their final products were Food Grade certified and met all of the safest quality standards possible. 
And all their hard work paid off. Only three months after launching in April 2023, they completely sold out of all 1,000 Meke Baby Milk Warmer units they had on hand. 
"It's so heartening to know we've been able to help so many parents already."
The sell-out product
WHAT YOU NEED TO KNOW
Retailing at $185, the Meke Baby Milk Warmer, or what Elysia refers to as the "bottle of freedom", is the first of its kind product on the market. 
It's designed with advanced technology that heats up breastmilk, formula or water in a matter of minutes without compromising on essential nutrients or antibodies during feeding. Plus, it has the ability to retain heat for several hours. The leakproof design eliminates the need for any adapters, kettles, microwaves or bulky warmers, instead only needed a USB port to provide up to nine hours of battery life. With an aesthetically sleek body and uncomplicated operating system, users can clearly see precision has also gone into the design of the food-grade and non-toxic bottle.
To use, simply turn on the device, pour the liquid and set the temperature to your liking (a maximum of 50 degrees Celcius). The temperature you choose will show on the bottle's display. Once heated, a tone will sound and the device will maintain that heat for up to nine hours, or until you turn off the power. 
"The overwhelmingly positive feedback from our first customers really solidified the fact that we had created something game-changing for parents everywhere, no matter their feeding choices or journey," Elysia explains. 
And the plethora of five-star reviews online reflects the product's high demand. 
"Before we had this bottle, I was always stressed leaving the house as my little one wakes up screaming for food and my husband would have to try to calm him whilst heating up water or milk, but this bottle means my husband can have the milk or water at the right temp quickly and easily taking the stress away from those wake ups when I'm not home to breastfeed," one customer detailed. 
Another person wrote: "This product not only looks beautiful, but it's functional as well. I originally bought this warmer to use on the plane and when on the road, but will be using it every morning instead of trekking downstairs to make my son's bottle."
Kalya Itsines, co-founder of Sweat, mother of two and Aussie fitness phenomenon with over 16 million followers on Instagram alone, is even a huge fan of the Meke Baby Milk Warmer. 
"Kayla Itsines also messaged us to let me know that she had no power at her house and that the bottle warmer saved her as she was able to heat up her baby's milk," Elysia exclaimed. 
Other notable mothers who are also huge fans of the brand include entrepreneur Gretta Rose van Riel and fashion designer Lillian Khallouf. 
"Their incredible responses gave us the confidence that we were on the right track with an incredible, high quality and very useful product."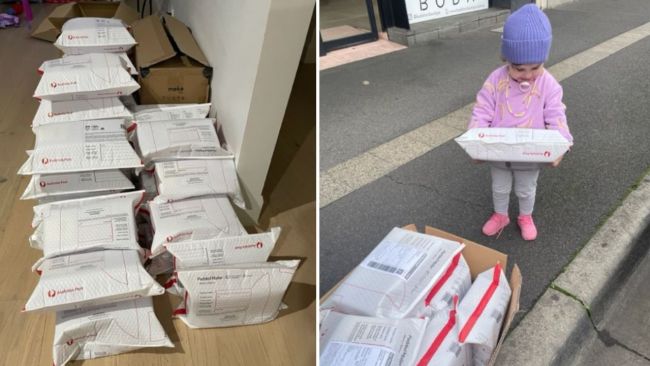 The orders keep coming in. Image: Meke Baby
Other popular Meke Baby products
But the range doesn't just stop at the Milk Warmer; Elysia and Chris recently launched the Meke Twist, with presales completely selling out in weeks. 
WHAT YOU NEED TO KNOW
Retailing at $54, the Twist features an inbuilt formula dispenser that allows parents to feed their baby with a simple twist, shake and feed in a matter of seconds. The lightweight, BPA-free and anti-colic bottle eliminates the need for bulky, unaesthetic dispenser containers, instead, streamlining the feeding process. Customers are given the option of three pacifier sizes - 0-3 months, 3-6 months and 6+ months - to cater to all stages of infancy. 
Those wishing to purchase both the Milk Warmer and Twist can save $19 by purchasing the bundle pack for $220. 
Other products in the ever-growing range include a replaceable Formula Cartridge ($12) for the Twist, Hydrogen Peroxide 3% solution ($8.99) for effective cleaning of your Meke products and Pouches ($54.99) to store breastmilk, formula or water before pouring it into your Milk Warmer.
The Meke Baby goal
Meke Baby is proving to be a huge success less than six months since launching — and Elysia's hard work hasn't gone unnoticed. Now named a finalist in the Innovation of the Year Category for the She-com 2023 Awards, she's motivated more than ever, to continue creating "bold, fresh and most importantly, inclusive" portable convenience around the world. 
"From the beginning, we made it really clear that it was important that what we created was an all-encompassing brand that appeals to both mums and dads," the budding entrepreneur said.
"Regardless of whether you choose to breastfeed or use formula, this brand is designed to support your baby's unique journey and honour your choices as parents throughout the process."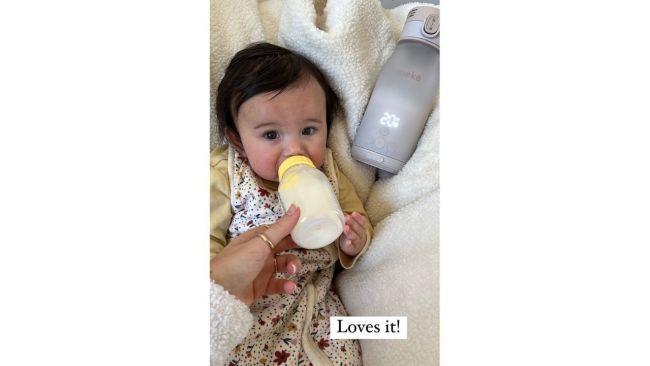 A very happy Meke baby. Image: Meke Baby